Second Edition
Explorations
in Typography
Carolina de Bartolo with Stephen Coles and Erik Spiekermann
A brand new edition of Explorations in Typography is currently in production. It has been revised and expanded to include more typesetting examples and more typefaces as well as a visual index of page layouts and grids. Along with the same excerpt from Erik Spiekermann used in the first edition, this edition also features the writing of Stephen Coles who composed all new typeface descriptions and an index of alternates for each that are low-cost or free for educational use.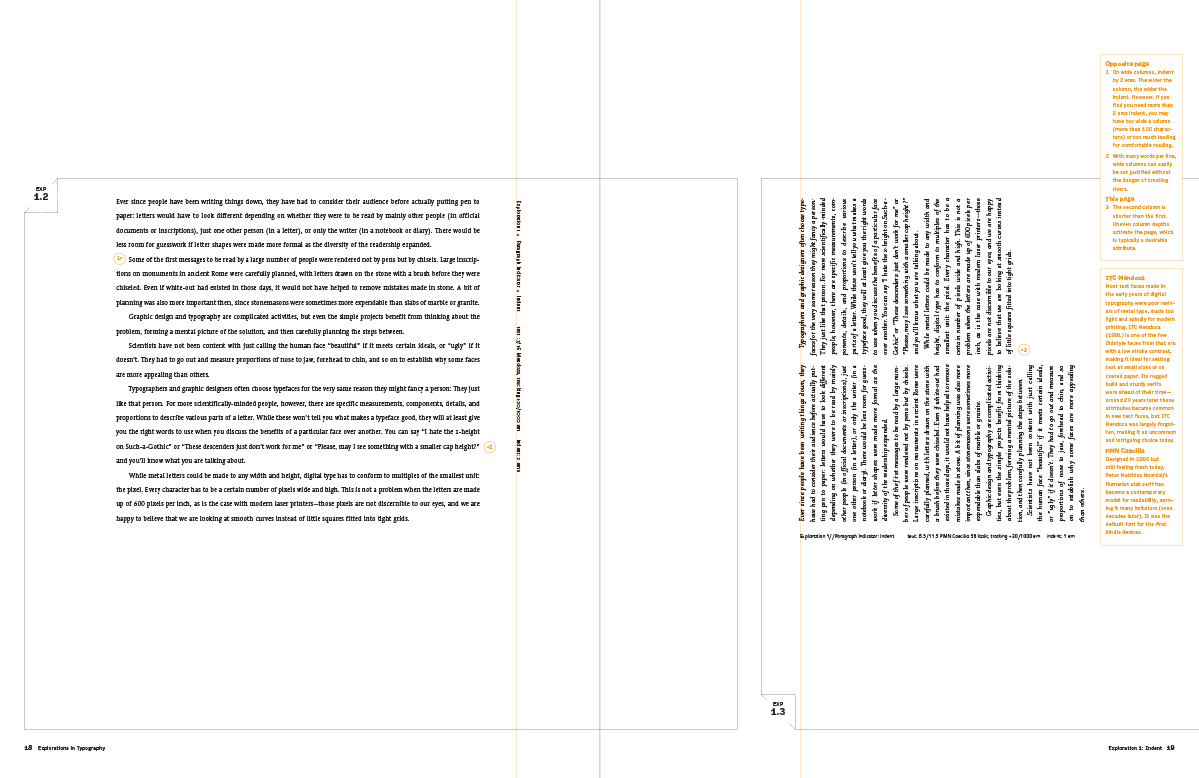 Second edition now available for pre-order!
Completely revised and updated
9.25 x 12 inches (23.5 x 30.5 cm)
216 pages
Casebound in matte silver bookcloth
Black silkscreened cover with silver foil-stamping
Yellow gilded edges with yellow bookmark
New type descriptions by Stephen Coles
Hundreds of typefaces + type combinations
Free or low-cost alternate typefaces
New visual index of page layouts
We expect that pre-ordered books will ship in October 2016. Pre-orders are only available here (not through any other booksellers).
Recognition for the first edition
TDC (Type Director's Club) Annual no.58
AIGA 50 Books/50 Covers 2011
FPO Awards 2013, Honorable mention
I.D. magazine Annual Design Review 2012
Print magazine Color in Design Awards 2013
Awwwards.com, Site of the Day 2011
Praise for the first edition
"As someone who works with typography and design every day, I have a few books I turn to when I need to clear my mind of clutter. One of my favorites is Robert Bringhurst's The Elements of Typographic Style, which includes this rumination on the sanctity of the title page: "Think of the blank page as alpine meadow, or as the purity of undifferentiated being. The typographer enters this space and must change it. The reader will enter it later, to see what the typographer has done." Lines like this refresh my understanding of the task at hand and clarify my sense of purpose. Carolina de Bartolo's book, Explorations in Typography, has a similar effect, albeit via entirely different means."
—Typographica.org
"…this impressive 'visual textbook'…shows how small changes can have a big impact on the look and liveliness of text type."
—Communication Arts magazine
"…a marvelous book that explains some of the most commonly used typesetting devices…a welcome addition to any design bookshelf."
—The Designers Review of Books
"An atlas for the typographic explorer. The book is an inspiration, both in terms of its sheer design quality and the lessons it imparts."
—The New Code
"I have noticed so many things with my typesetting already that I didn't notice before, and I have just started the book."
—J.G., design student
"This book is rocking!"
—W.C., design student
"Wow, what a book! It's the perfect blend of form and function. A true work of minimalist genius."
—P.M., designer
"…some wonderful teaching materials."
—C.G., design professor, The Illinois Institute of Art
"I want you to know how valuable this book is and it is one of the only books that actually shows how to do style sheets that make beautiful paragraphs. Thank you for that."
—G.A., design professor, California State University
"I love it—it's very beautiful and shows a wide array of advanced options for thinking about layout."
—B.L., design professor, Portland State University
"it is a beautifully designed book that visually folds in numerous ideas about design in an accessible and thoughtful manner."
—M.L.A., type and graphic designer and lecturer
"The book is very very useful for me, but even more useful to teach my senior as well as my junior designers at the studio."
—W.D.O., creative director
"…something quite unique in the industry!"
—N.R., publisher
"…beautifully crafted and thoughtfully produced."
—E.S., design professor, San Mateo Community College
"I feel like my mind has been trained when I see all the beauty in a book like this!"
—R.L., design student
"Masterful à la Müller-Brockmann's Grid Systems."
—D.T., startup founder and CEO
"I really love it, wish I had gotten it sooner."
—J.D., designer
Notes
All transactions are processed through PayPal.
Explorations in Typography ships anywhere in the world. Orders will only be shipped to confirmed PayPal shipping addresses. International orders allow at least 10 business days for delivery.
All books ship from the US. Be sure to select the correct shipping option for your location or your order may be delayed in processing.
For international shipments, recipient is responsible for all possible customs duties, tariffs, taxes and Value Added Taxes (VAT), which may be collected by the carrier upon delivery.
We regret that we are unable to accept returns or give refunds at this time.
Questions about your transaction can be directed to us at info@explorationsintypography.com.
Inquiries regarding bulk orders, examination or review copies can be directed to us at info@explorationsintypography.com.